Fallas Clothing
Fallera Mayor dress
Fallas Clothing
Fallera Mayor dress
The general structure and components of a Fallera Mayor's dress are broadly the same as those of a regular fallera. Only a couple of elements really distinguish the Fallera Mayor from other falleras.
Since 2001, the Fallera Mayor de Valencia has to wear a specific fabric, whose floral design was chosen by the Junta Central Fallera (JCF). The fabric is referred to as the official espolín de Fallera Mayor de València*. Espolín* is a specific silk fabric made by hand with a wooden loom. So every year, the elected queen gets to wear a fabric design reserved exclusively for Falleras Mayores who represent the city*.* Bets are often placed on which colours she will choose to make her dress.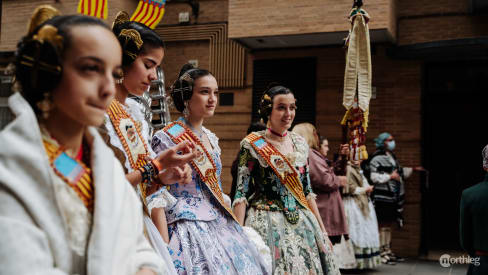 The other distinctive element is the sash in the colours of the Valencian flag (red and yellow stripes with a blue band). However, the sash is not mandatory, so the choice of whether to wear it or not is left to the Fallera Mayor's preference. All falleras mayores (the committees' representatives as well as the city's representative) can wear these sashes.
More related activities...
You might also be interested in...