Definitive guide
HMS Belfast
HMS Belfast is a ship-museum where you can discover how a 20th-century warship functioned in every aspect, from battles to medical emergencies to everyday life for the crew.
Definitive guide
HMS Belfast
HMS Belfast is a ship-museum where you can discover how a 20th-century warship functioned in every aspect, from battles to medical emergencies to everyday life for the crew.
HMS Belfast is a 9-deck warship, initially built for the Royal Navy and now moored in the River Thames and kept as an Imperial War Museum. HMS Belfast is primarily famous for having played a key role in protecting the Arctic convoys during WWII. It is also, notably, one of the only three remaining vessels from the fleet supporting the Normandy landings on D-Day, in 1944.
Inside, you can explore what is essentially a floating city with exhibitions and installations displaying everything from machinery, to control rooms, to living quarters, showcasing what life was like aboard a warship and how military operations were carried out.
You will learn all about the cruiser's history and the military events in which it took part in its years of activity, between 1939 and 1965. Of course, you'll be told plenty of interesting anecdotes on the day-to-day running of the ship. You'll also be able to visit the entirety of the rooms, which include the cabins, the kitchens, the cockpit, the emergency room, the wine cellar, the operations room, and the engine room.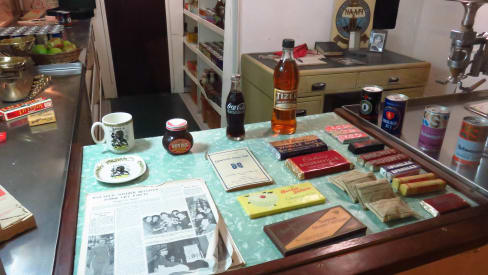 Interestingly, HMS Belfast is regularly checked, dry-docked, and issued the proper certification that allows it to remain moored in the waters of the River Thames. This means that it is watertight and technically seaworthy, although it would probably not be able to move with its own engine.
HMS Belfast is definitely a visit we recommend to anyone invested in history (World War II in particular), as well as to engineering and weaponry aficionados.
Location
The Queen's Walk, Southwark, London, SE1 2JH.
HMS Belfast is moored in the River Thames' waters, right between London Bridge and Tower Bridge. Thanks to its advantageous location, it isn't far from many well-known sights and attractions in the city. First among them is the Tower of London, then The Monument, and The Shard. On its northern side, the bridge is quite close to the City of London and the Whitechapel districts.
Visiting HMS Belfast - entries and price
HMS Belfast requires an entry ticket, which you can get on the day or in advance on the HMS Belfast's website . If you book your tickets online, remember that they are timed, so your entry time slot covers the following thirty minutes. If you arrive any later than that, you might have to wait for the next available spot to enter.
The full-price adult ticket costs £24.50. Seniors, students, and visitors with disabilities enjoy reduced tickets (£22.05), as well as visitors aged 5 to 15 (£12.25). Children under 5 years of age, carers, and Imperial War Museums Members enter for free. If you want to become an IWM Member, you can do so on the HMS Belfast's website .
When buying your tickets, note that you can choose to include an additional 10% voluntary donation.
Remember that HMS Belfast might be included in seasonal 2FOR1 offers, which normally make you eligible to buy two tickets for the price of one.
| Adult | Young visitor (5-15) | Senior (65+), student, adult w/ disabilities | Child (0-4) & carer |
| --- | --- | --- | --- |
| £24.50 - £27.00* | £12.25 - £13.00* | £22.05 - £24.30* | free |
Schedule
HMS Belfast is open every day from 10:00 am to 6:00 pm. Visitors are allowed in until one hour before closing time, however, it is suggested that visitors allow at least three hours to be able to see the entire ship.
| Day | Opening time | Last admission | Closing time |
| --- | --- | --- | --- |
| Mon-Sun | 10:00 am | 5:00 pm | 6:00 pm |
Transport
Thanks to its central position, HMS Belfast is very easy to reach. If you're taking the Underground, the Northern and Jubilee lines both take you to London Bridge, just a couple of minutes west of the moored ship.
If you'd rather get the bus, we recommend lines 47, 343, and 381, as they will leave you the closest to HMS Belfast. If these routes don't work for you, you also take lines 17, 21, 35, 43, 133, 141, 149, 344, and 388. You'll be dropped off around London Bridge, so you won't have to walk to far to get to the museum.
You can find a summary of the public transport options in the table below.
| Method | Underground | Bus |
| --- | --- | --- |
| Lines | Northern, Jubilee | 17, 21, 35, 43, 47, 133, 141, 149, 343, 344, 381, 388 |
| Stops | London Bridge | - |
If you want, you can reach HMS Belfast by taxi, but we don't recommend it, considering the traffic conditions in central London.
More related activities...
You might also be interested in...