Definitive guide
Top activities for a rainy day in Valencia
Grey skies, pouring rain, and chilly wind: don't let them stop you from enjoying yourself in Valencia
Definitive guide
Top activities for a rainy day in Valencia
Grey skies, pouring rain, and chilly wind: don't let them stop you from enjoying yourself in Valencia
Even though Valencia has an excellent track record in terms of weather, the city still sees its fair share of rainy and gloomy days, especially in November, March, and April. You might be surprised to find out that the streets empty out almost completely and Valencianos cancel all their plans on such days. But you don't have to be so drastic when it comes to a little rain.
Instead, you can try out many of the available indoor activities and still enjoy the city. All while staying dry and cosy! First of all, we recommend you get the VTC, which gives you discounts on hundreds of indoor centres and shops. If you don't already have one, you can get it here .
Here are our favourite ten activities to do when the sun isn't shining in Valencia.
Visit a museum
Valencia has no shortage of museums, there is something for everyone's taste, it's just a matter of trying to find what works for you. You can go for the more classic museums like the Museu de Belles Arts (Fine Art Museum) and the Ceramics Museum at the Marqués de Dos Aguas Palace. Maybe you can pick contemporary and modern art museums like the Instituto Valenciano de Arte Moderno or the Centre del Carme Cultura Contemporània.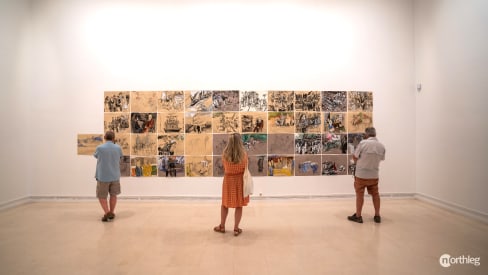 If you're into science and prefer an interactive museum, you should definitely check out the Museo de las Ciencias Príncipe Felipe. If instead, you'd like to learn a bit about the history of the city and region, you'll find a great Prehistory Museum and the Museu de la Història de València.
For those who want to explore the local culture and crafts, we recommend going to the Museo de la Seda, the Museu Faller and the Museu Valencià d'Etnologia. Finally, for a truly unconventional museum of ideas, head to the Museo Valenciano de la Ilustración y de la Modernidad.
If you like museums, remember that you should definitely get a VTC , which will guarantee free entries and discounted tickets to hundreds of museums. If you want to know more about the city's museums and see our personal recommendations, head to our article.
Go to an art gallery
If you like art but want a little more direct contact with the artists than you would get in a museum, Valencia has plenty of art galleries that you can visit. First off, we suggest you head to Ruzafa, where most of them are.
In this neighbourhood, you are sure to find all kinds of spaces. For instance, there are art gallery cafès like Trentatres Gallery, open spaces where jazz musicians perform live such as Color Elefante, upcycling art galleries like Mia Morena Art, as well as shared art workshops like The Sporting Club
Warm up in a café in Ruzafa
The Ruzafa neighbourhood is also known for its many cafés, perfect to get cosy on a rainy day. If you want to curl up and read something with a warm mug in your hands at a bookstore café, Ubik is what you're looking for.
If you prefer a cutesy place with decadent, American-style pastries, we suggest La Más Bonita or Dulce de Leche. Whatever else you feel like, Ruzafa probably has it.
Wander the aisles of a covered market
Valencia is known for its indoor markets. Not only are they full of fresh local produce, cured meats, cheeses, and wines, but they are also architectural pieces of art. Both the Mercado Central and the Mercado de Colón are fantastic examples of Valencian Modernism, while Mercado de Ruzafa is a bit more stern and avant-garde in style.
For the best experience, we suggest you go to one of these Markets in the late morning and then stay to try out some of tapas of your choice for lunch.
Get a heartwarming fill of local cuisine
What better way to keep warm and comfortable than to try out all that the local cuisine has to offer? On a particularly chilly day, you could have a perfectly dense and decadent mug of hot chocolate with churros or buñuelos to warm you up. If those options feel a little too wintery, you could have a refreshing horchata with fartons or even a local alcoholic drink, agua de Valencia with some tapas.
When it comes to more substantial meals though, there's nothing like Valencian paella. There are plenty of restaurants that offer this traditional dish in the city, and if you want to go a step further, you could even learn how to make it yourself in a paella workshop.
Visit a church
Mediaeval, a bit melancholic and gloomy, churches make for an excellent rainy day destination, and there are a lot to choose from in Valencia. For instance, the Cathedral of Valencia is a great place to start. It is Valencia's most important religious building and the place where the Holy Grail is kept.
If you've already visited that one, we recommend Saint Nicholas Church, with its breathtaking ceiling frescoes. Other beautiful churches that definitely deserve to be seen are the San Juan del Hospital Church, the Convent of Santo Domingo, and the Parroquia de Santa Catalina y San Agustín.
Get funky at a music bar
Don't give up your plans for a night out just cause it's raining. While a bar crawl might be out of the question, you can still choose a live music bar and enjoy your night there. The best place to find such events is surely the Old Town, with bars like Radio City, Jimmy Glass Jazz Bar, and Black Note Club.
If you want to take matters into your own hands - or embarrass your friends with bad renditions of beloved songs - you can also try out a karaoke bar like Malos Pasos.
Enjoy a film at the cinema
This is a typical rainy day activity, and there's a good reason for that. Who doesn't want to watch a nice film on the big screen surrounded by an excellent sound system, preferably while munching on some snacks?
Luckily, Valencia offers a wide variety of options in this department. At the IMAX cinema Hemisfèric you can immerse yourself in the experience thanks to a 900-square metre concave screen. If your taste tends a little more toward indie productions, Cines Babel offers a variety of independent films, usually subtitled. For classic cinema, we recommend La Filmoteca, while Cines Lys is your go-to for the latest releases.
Go to the theatre
Do you want to treat yourself to something a little different and even a little fancy? All while staying perfectly sheltered from the rain, of course. Then maybe you should try out going to the opera or to the theatre.
Valencia has several famous venues, but the two most important are the Palau de las Arts Reina Sofia and Palau de la Musica. They both routinely change their programmes, so you're sure to find a great variety of operas and classical orchestras playing.
If you want something a little more casual, you can go to the Teatro Olympia or the Teatre Talia. There you'll find flamenco shows, theatre, monologues, and musical acts.
Go to the Aquarium
Located in the City of Arts and Sciences complex, the Oceanogràfic is the perfect solution for a bad weather day. This aquarium is the largest in Europe and holds around 45,000 animals. The structure is made up of several underwater halls that mimic different ecosystems, so it'll have you wandering around for quite a few hours.
There really is no age limit to visit this venue, so the Oceanogràfic is perfect if you're with family or in a large group where you have to accommodate everyone's taste.
More related activities...
You might also be interested in...