Definitive guide
Hidden gems in Valencia
A little hard to spot, off the beaten path, or maybe just not as well-known as other sights and attractions. These are Valencia's secret spots.
Definitive guide
Hidden gems in Valencia
A little hard to spot, off the beaten path, or maybe just not as well-known as other sights and attractions. These are Valencia's secret spots.
You probably already know all about Valencia's most popular sights, its most important museums, and its most beautiful neighbourhoods. So what about the city's hidden gems? Those places that only locals know, the ones that aren't as crowded, the ones that are hard to spot among other buildings, but just as worth seeing.
A great way to get a look at Valencia's most under-visited places is to book a tour with a local guide . If you'd rather go on your own, here we have compiled a list of all those places that, according to us, are a little off the usual tourist itinerary. Visit these and you'll get to know a Valencia that few others do.
Montfort Gardens
If there's such a thing as a hidden paradise in Valencia, this is it. This small, quiet park is a beautifully cared for and elegant ornamental garden. This is a little-known romantic gem that can provide a break from the summer heat, especially if you need a bit of quiet and alone time.
The MontfortGarden is an extremely curated green space, with plenty of water fountains and shady areas. The careful landscaping gifts the area with hedge mazes adorned by elegant statues, delicate floral displays, wooden bridges, and flower tunnels.
The narrowest house in Europe
This one hides in plain sight. It's the narrowest building in Europe and it's aptly called La Estrecha (the narrow one). You will find it in Plaza Lope de Vega, just a few steps away from the Lonja de la Seda.
The construction - wedged between two beautiful apartment complexes - hardly looks like its own building at a first glance, as it is barely wide enough to have a door and a column of windows right above it. The building is only 107 cm wide (3.5 feet) and 5 storeys tall.
Monasterio de San Miguel de los Reyes
San Miguel de los Reyes is a massive, castle-like monastery just north of Valencia's centre. Because of its position, it isn't well-known by visitors, but it is actually considered an extremely important piece of architecture.
The complex, built on a 14th-century monastery integrates the typical elements of Cistercian architecture - the pure, orderly style, the lack of superfluous ornaments - with Renaissance additions. In fact, San Miguel de los Reyes is thought to be a prototype for the famous Escorial royal palace.
Exposiciò del Ninot
You're only going to be able to see this one if you're in Valencia between the end of February and the 14th of March, so if you're around at that time, we absolutely recommend you go. The Exposició del Ninot is where hundreds of ninot figures from the yearly Fallas festival are kept. But let us explain what this is all about.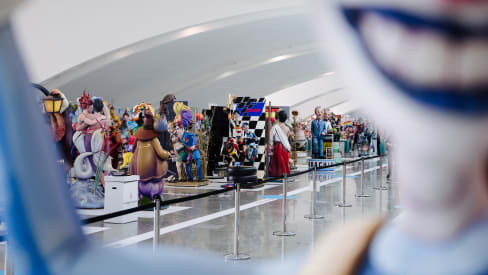 In March the city of Valencia hosts the folkloristic Fallas festival. Each neighbourhood produces a wood and papier-mache figure known as falla. These fallas are made up of different figures - known as ninots - that make up a scene. All fallas are burned in a bonfire at the end of the festival on 19th March.
However, before the bonfire, selected figures (the ninots) are pardoned from the flames for their artistic value of social relevance. The Exposició del Ninot is basically a month-long contest where people get to vote for the ninot they want to pardon. If you don't get to go to the Exposició, you can still see past winners at the Museu Faller. Remember that with a VTC you'll get a discount on hundreds of Valencian museums, including the Museu Faller. If you don't have one, you can get it here .
Jardí d'Aiora
This little-known park is ideal for a lazy day when you just feel like strolling around a peaceful and romantic green space. The Jardí d'Aiora, built in the early 20th century, is a monumental Modernist garden, accompanied by a sumptuous mansion.
The building, with its domed tower and combination of materials, has an eclectic look, typically present in Valencian Modernism. In the garden, you'll enjoy the fountain surrounded by large tree specimens in a free layout.
The world's oldest court
Despite being one of Valencia's three UNESCO Heritage recognitions, Tribunal de las Aguas (Water Tribunal) is not terribly well known by visitors. The Tribunal is a justice institution whose purpose is to settle disputes regarding the use of irrigation water by farmers in the Valencian Huerta (the farmlands).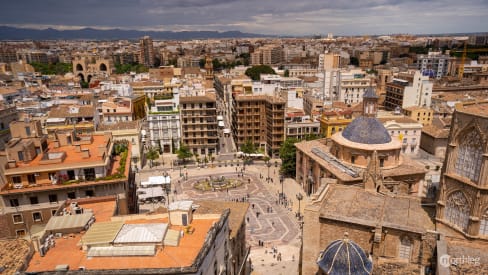 The Tribunal is the oldest court in the world, as well as the oldest surviving democratic institution in Europe. At midday every Thursday, in Plaza de la Virgen, the participants gather and the processes are carried out completely orally, meaning there is no writing done and no written records.
Miniature Museum
The Museo de Soldaditos de Plomo L'Iber is undoubtedly a quirky one. The museum, located in a large palace with a Gothic patio, is entirely dedicated to miniatures. The collections exhibited display almost the entire history of Spain thanks to their 95,000 pieces, which include soldiers, dinosaurs, and various animals.
Iglesia de San Nicolás de Bari y San Pedro Mártir
Now this one is certainly not unknown, but it is hidden between buildings for sure. The Iglesia de San Nicolás de Bari y San Pedro Mártir is famous for its unique combination of Gothic and Baroque styles, as well as its spectacular ceiling frescoes. Careful not to miss it on Carrer dels Cavallers, its entrance is wedged between a bar and a house.
Even the non-religious types can't help but be completely captured by this spectacular building, which has earned itself the nickname Sistine Chapel of Spain.
More related activities...
You might also be interested in...